Tracking an Activity on Apple Watch
From the Watch (standalone, without the phone)
Starting an activity from the Watch will result in a standalone trip that uses only the Watch to track the activity, and will save a map using your Watch's GPS hardware capability. Even if you're within Bluetooth range of your phone, Runkeeper on your phone will not track an activity if it was started from the Watch.
When you open the app on your watch, you'll be greeted with the Start screen, where you can begin your activity by pressing the green button.
If you want to select a new activity type, or further customize your trip, just swipe left on the watch face to reach the Settings screen.
Standalone Watch Activity Settings
Activity
On the menu screen, tap on the Activity cell. You'll first be given the option to choose between either an Indoor or Outdoor activity and from there, you can choose from a list of supported activity types in each category.
Pace
Select either Average or Current pace to show on the tracking screen during your activity (please note that the fifth tracking layout will show you both at the same time!)
Layout
Swipe right to see a selection of different layouts and choose which stats you want to see for your activity. Select the layout you'd like to use by tapping on it, which will then highlight in green to indicate you have selected it.
Workout
To select a specific workout, tap the Workout cell and select the training plan or custom workout you want to track. All of your custom workouts created on the phone will sync to the Watch. If you are enrolled in a training plan, your watch will display the next incomplete workout from that plan. Note: Running for Exercise, Guided Workouts, and Win the Long Run training plans are not available when using the Apple Watch Runkeeper app in Standalone Mode.
Countdown
Turning on the countdown timer will result in a 3-second countdown delay after you press the Start button before the app starts tracking. If you'd prefer for the app to track the moment you press the Start button, just toggle this off!
Audio Stats
Toggle audio stats on/off (please note that the watch app follows your mobile app audio stat settings).
Volume
Adjust the volume of your audio stats by turning the digital crown on the side of the watch.
Viewing your stats while tracking
While tracking, you can swipe through several different screens to view your stats. The default screen will show duration, distance, current pace, and heart rate. If your Apple Watch is running on WatchOS 9 or later, you can swipe down to view your current heart rate zone and swipe down again to view your current split time. Swiping left from your main tracking screen will bring you to the pause/water lock screen; swiping right from your main tracking screen will bring up the music/podcast control screen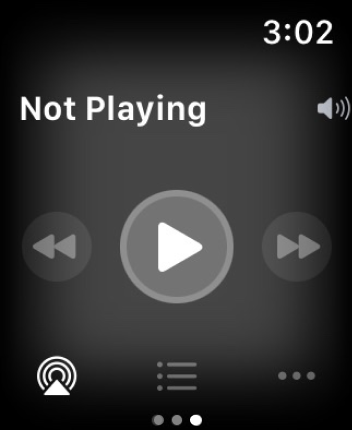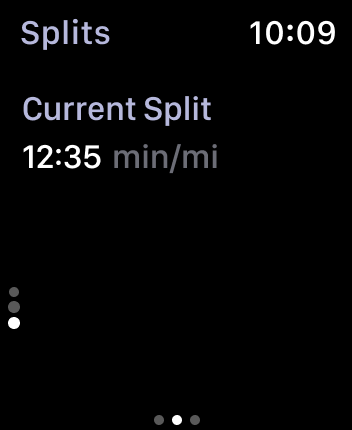 If your Watch is running on an OS lower than WatchOS 9, you'll be able to swipe right and left to navigate to those different screens.
Note: You can choose between current pace and average pace in your settings before you start.

Completing An Outdoor Activity
Once you've finished your activity, swipe left and press the pause button. If you decide to continue tracking, simply hit the resume button. However, if you are indeed done, tap the Stop button. You'll then see an Overview of your activity on the next screen.
Scroll down and click Save, and you'll be all set!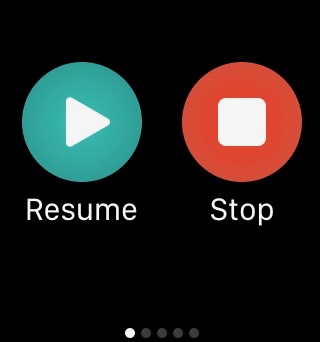 Completing An Indoor Activity
Once you're done tracking an indoor activity, you can swipe left and hit the Stop button to complete it.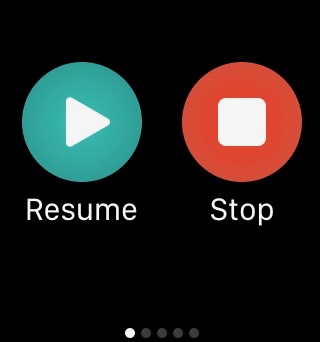 Notes:
Interval feedback for selected workouts will be given in the form of a haptic vibration (we upped the strength so it should now be easier to feel!).
When you've finished your activity and save it on your Apple Watch, it will not sync to our servers until you've opened the Runkeeper app on your iPhone.
Apple Watch Standalone trips do not produce elevation, pace, cadence, or split graphs on the website. This information is only available within the mobile app.
If you're a Runkeeper Go user and using Live Tracking, this feature is not available in Standalone Mode on the Apple Watch. You'll want to start your Live Tracking trip from the phone app and be sure to take the phone with you.
Tracking with the Watch and phone
To use your Watch as a remote but still track the activity from your phone, start an activity from the phone. Select your settings for audio cues, workout, and activity type from the phone.
If your Watch is connected to your phone and in Bluetooth range, the Watch will pick up the same trip and display it on your Watch. You can control the rest of the activity from your Watch (pausing, stopping, etc.).
*Got more questions? Contact our support team at support@runkeeper.com!