Audio cues provide real time coaching through your headphones during activity tracking giving updates on time, distance, pace and other customized coaching options such as target pace, intervals and integration with Runkeeper Training Plans. 
How To Turn OFF Audio Cues:
iPhone: Go to Runkeeper Settings, then change "Audio Timing" to "On Demand Only" and slide ALL "Audio Cue" toggles into the OFF position.
Android: Go to Runkeeper Settings, Set Time Trigger and Distance Trigger to "None" (you may have to scroll up!) and uncheck ALL Audio Cues. 
Customize iPhone audio cues settings:

*If you want to customize your Audio Cues from the Start Screen, that's now possible with the NEW Start Screen on v7.8! Check out this article that outlines how to select those & more!*
1. Open Runkeeper application
2. Select Settings by going to your "me" tab and tapping on the settings gear
3. Find Activity Settings
4. Select Audio Cues to determine which audio cues to enable (e.g. Time, Distance, Avg. Pace...etc)
Frequency
Select Audio Timing to determine the frequency (e.g. Every 5 Minutes, Every 1 Mile...etc). When you are done press "Activity Settings" to go back. At any time during the activity, you can press the status bar at top of the activity to trigger an immediate audio cue.
Volume
Press Audio Cue Volume in your Runkeeper Settings menu and use the slider to adjust the volume of the spoken audio cues relative to your music. To change overall volume, use the volume hardware controls. When you are done press "Activity Settings" to go back.
Training Workouts
Audio cues are also available for customized Training Workouts. If you pre-program a Training activity, you can be notified by audio cues about Target Pace (i.e. Fast, Medium, Slow) for upcoming intervals of a Training Workout.
(iOS Audio Cue Settings)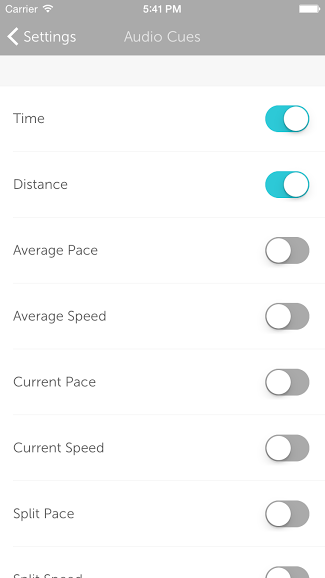 Customize Android Audio Cue Settings
1. Open Runkeeper application
2. Select the settings gear icon in the top status bar
3. Under General select the Audio Cues option
(Android Audio Cue Settings)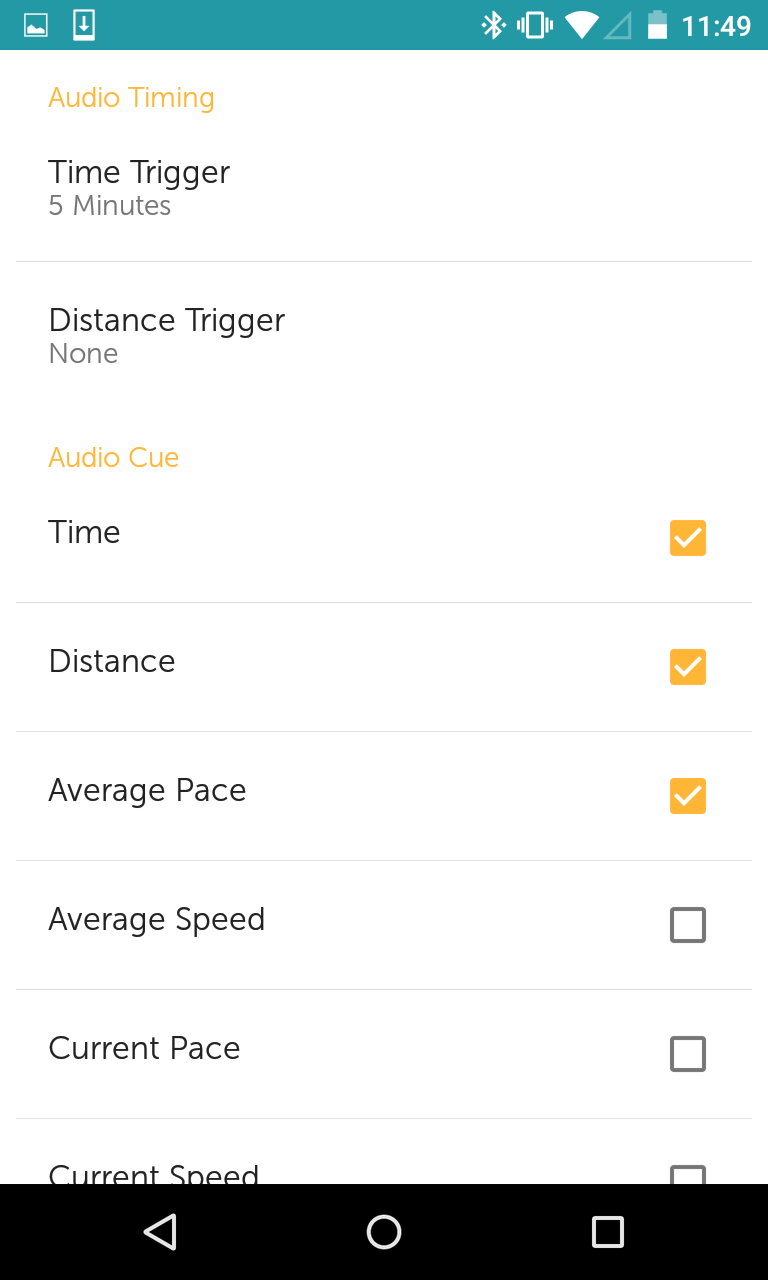 Audio Timing
This is where you have the option of when you want to hear your audio cues! You have two timing options.
Time Trigger is if you would like to hear your audio cue on a timed interval
Distance Trigger is if you would prefer to hear your audio cues after completing a certain distance. You will be able to set a distance ranging from 0 to 10 miles!
We would like to note here that it is possible to turn off the audio cues! When you first enter either 'trigger' section the default setting is either 1 minute or 0.25 miles. If you pull the menu down, you will see the 'None' option at the very top. It is not easily visible so sometimes you will not notice that it's an option!

Audio Cues
This is the section where you decide what you would like to hear during your audio cues! Simply check off the box of each stat that you would like to hear.
You can choose from: time, distance, average pace, average speed, current pace, current speed, current split pace, current split speed, average heart rate, current heart rate, average heart rate zone & current heart rate zone
*If you don't want to hear any audio cues, make sure to not have any of these boxes checked*
Audio Ducking
This setting allows you to control the volume of your music during your audio cues. By checking off this box, you will allow your music to 'duck' the audio cue. This basically means that the volume of your music will become softer during the audio cue, then once the cue is over the volume will come back to the same level it was set to before! 
Troubleshooting Tips
Be sure your audio volume is up. Sometimes your ringer volume will be up, and your audio will be low. Try turning the volume up after you have started your activity.
If you are using the top lock to sleep the screen and the audio cues ever stop, try pressing the home button once and they should resume immediately.
You can activate on-demand audio cues anytime during an activity by tapping the blue part of the app display screen.
If you are on Android, there are different volume settings based on what you want to hear. Make sure that all four settings are turned up.
Audio Cue Voice
At Runkeeper HQ's we love the voice of Kat, but understand her voice might not be the most motivational for all users. That's why we've just released Audio Cue Voices! Whether you want the rigid instruction of a Drill Sergeant, or the soft guidance of a Mademoiselle telling you your average pace, we now have multiple choices available to fit your mood!
In order to set these up, just head over to your Activity Settings and click on Audio Cue Voice. From there you'll be given six options:
Kat (default)
Drill Sergeant
Mademoiselle
Your Conscience 
Boston Fan
Mr. Announcer
Click on the voice you want, and your ears will be good to go! 
iOS
Android 
Known Issues
We have a few outstanding issues with our audio cues that we're currently working on fixing. If your having trouble with your audio cues that isn't listed below, just contact us with more information and we'll be sure to help you out!
Android users have noticed that after receiving a phone call or text message while tracking an activity the audio cues tend to get a bit wonky. Sometimes the disappear completely and sometimes the timing is off. 
If you are tracking a longer duration activity and use the pause function to pause your activity 4-5 times for a duration of 3-5minutes, the time code on the audio cues will stack up and the cues will start going off at later times than they are programmed to go off or, in some cases, not at all. The pause function is designed for short intervals, such as stopping at a crosswalk, red light, etc. So keep that in mind while using the pause function during your workout!
Audio cues also get a bit out of whack when you have multiple audio cues set to go off at the same time. For example, if you have both time & distance triggers set to go off that will overlap, sometimes the audio cues will stop or become delayed. This will also happen if you have audio cues set to go off during an interval workout. We're looking into why this happens and hopefully we'll have a solution soon! For now, we suggest that you make sure your audio cues do not overlap!