Some users have reported difficulties using Pocket Track with consistent results, or in some cases at all, so here are some tips and information about the feature!
After the release of iOS 8, we have noticed differences in how your phone's motion coprocessor translates step/motion data to Runkeeper. This affects how Pocket Track operates within Runkeeper, and you may notice that Pocket Track is either not picking up any trips or is only picking up a few.
Quick Overview
Pocket Track will (should) pull any consistent motion data from your iPhone 5s, 6, or 6+ motion co-processor chip that is longer than 15 minutes in duration. The M7 or M8 is already tracking your phone's movement throughout the day, so all Runkeeper has to do is bring that data over to your account.
Because Runkeeper isn't actually tracking this movement, but rather pulling data from your phone, your phone has to be moving enough during these walks for it to register the movement as a walk. Your pace should be faster than 37min/mi. Also make sure your Runkeeper has allowed access to your motion data. This can be found by going to your phones settings > privacy > motion.
Troubleshooting Tips!
If you find that your Runkeeper is not pulling your walks into your account, make sure all the following settings are correct.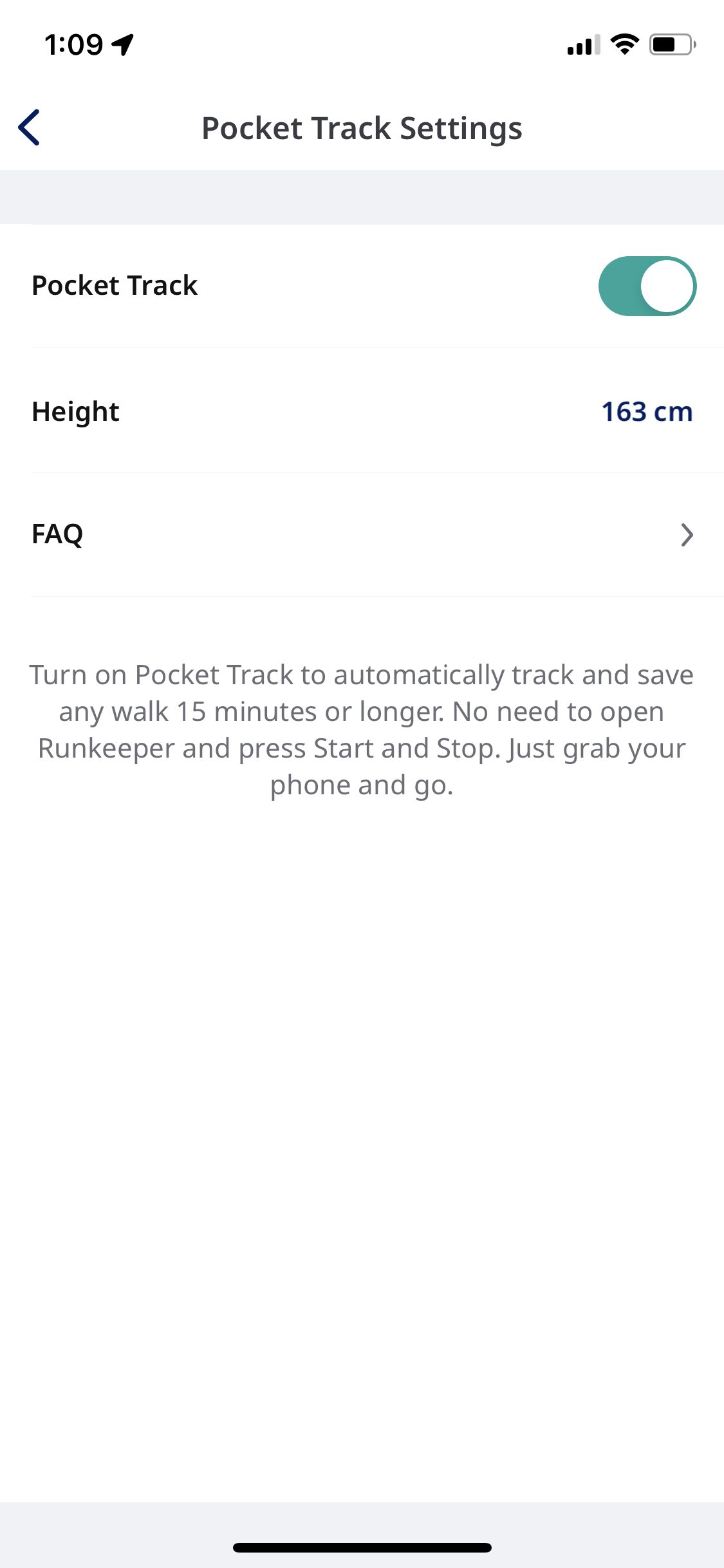 Everything look good on this end? Try putting the phone somewhere else on your body where it can get a little bit more motion! Try jacket pocket, pant pocket, or even hold it in your hand to see if the placement results in a different outcome. Chances are if your phone is not pulling the motion data in, your phone was not moving around enough during your walk.
Not an Active Tracking Feature
Pocket Track is not meant to be an Active feature. Some users have been using it to track their walks outdoors, in lieu of opening Runkeeper and using GPS tracking as they've done in the past. While using Pocket Track to do this is a perfectly fine thing to do, Pocket Track is more of a failsafe of "if you forgot" to turn Runkeeper on, or if you're walking around a lot for your job, to get to school, or any activity you would not normally track.
Pocket Track doesn't use GPS and is only an estimation of your distance walked based on the M7/M8 Chips, so when looking at a Pocket Tracked trip after, you're not going to see any map, as the M7/M8 does not use location data. For this reason, Pocket Tracks aren't sent to partner apps, nor do they count toward Challenge progress.
If you have the ability, and are outdoors, we still suggest you use GPS tracking, as you'll not only have the added benefits of Audio Cues, a GPS map and charts, but you'll be able to start and stop it when you want!